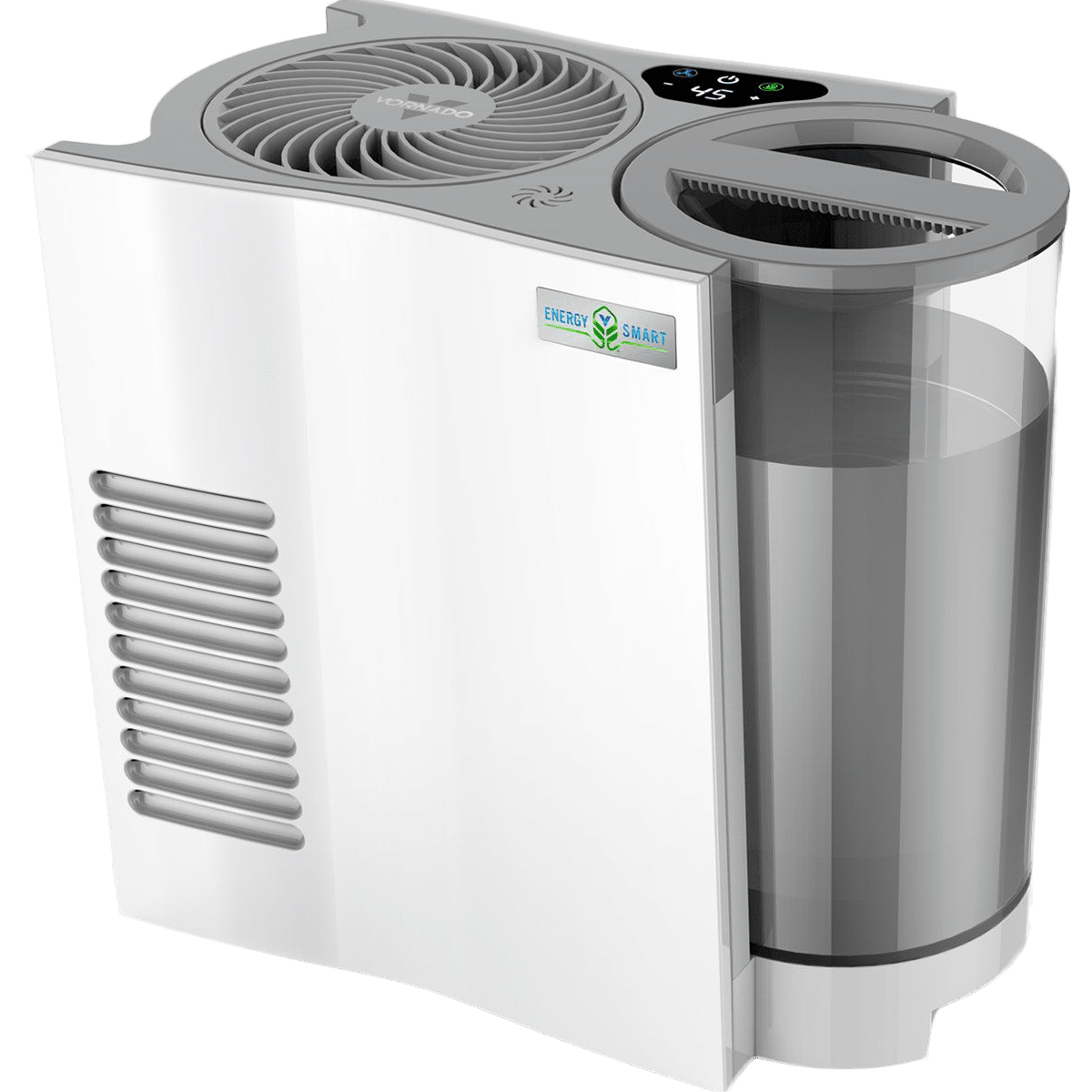 Vornado EVDC300 Energy Smart Evaporative Humidifier
Vornado's EVDC300 Evaporative humidifier utilizes Vortex Action airflow to efficiently humidify a whole room up to 750 square feet in size. It features a clear, easy-to-fill, 1-gallon SimpleTank™ and an Energy Smart™ DC motor that uses 90% less energy than comparable Vornado AC humidifiers. Authorized Vornado dealer. See our expert rating & reviews.
Evaporative humidification
Vortex Action airflow for whole-room humidification
For use in rooms up to 750 sq. ft. in size
Humidity levels: 40%-60% or continuous mode
Digital display with touch-sensitive controls
Photodetector sensor automatically adjusts the display light
Clear, 1-gallon SimpleTank™
Removable air outlet grill
Air inlet grill
3 speed settings: Turbo, high or low
Energy Smart™ mode for automatic humidification
Powerful, brushless DC motor
Utilizes 90% less energy than other Vornado AC humidifiers
Automatic humidity control
3-gallon output per 24 hours
Low-water indicator
Auto shut-off when the tanks are empty
Refill indicator light
6-foot power cord
Includes 1 wick to filter out impurities in your water
Manufacturer's 5-year warranty; 10-year motor warranty
Room Coverage: 750 sq. ft.
Tank Capacity: 1 gallon
Humidification Performance: 3 gallons per day
Auto Shut-Off: Yes
Power Supply (Volt, Hertz, Watts): 120V, 60Hz, 8.5 watts
Adjustable humidity control: Yes
Recommended cleaning period (unit in use): Monthly or as needed
Type of humidifier: Evaporative
Color: White
Weight: 6.88 lbs.
Dimensions: 13.18";w x 7.79";d x 12.19";h
Warranty: 5 years; 10-year motor warranty
The Vornado EVDC300 Evaporative Humidifier provides efficient, whole-room humidification and it will help you save money on your energy bills at the same time—its DC motor utilizes 90% less energy versus comparable Vornado AC humidifiers. When it is operating in Energy Smart™ mode, the humidifier will automatically adjust its speed and provide the right amount of power to achieve the most efficient performance. The EVDC300 has a minimalistic design and features a SimpleTank™ system with a clear, easy-to-fill, 1-gallon water tank. The clear tank also make it easy for users to visually see how much water is in the tank and when it is time to refill. The EVDC300 Evaporative Humidifier provides a natural, comfortable living environment in your home, plus you'll have peace of mind since it is backed by a manufacturer's 5-year warranty.