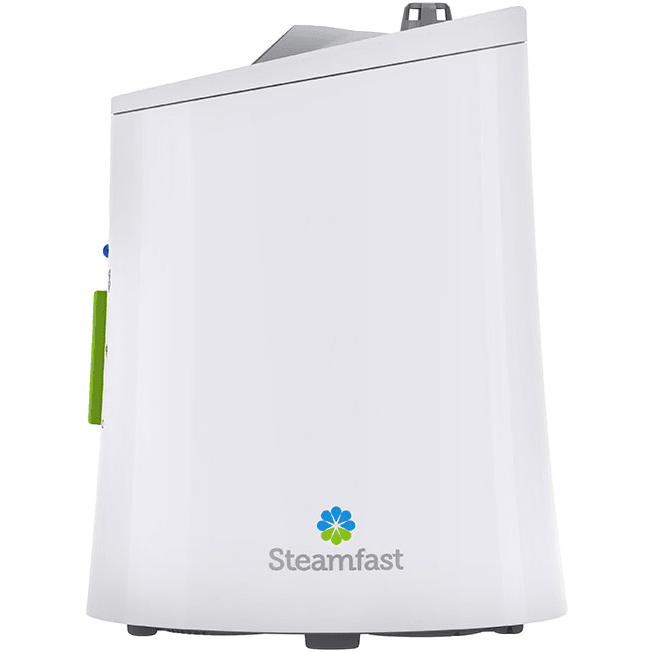 Steamfast™ SF-920 Top-Fill Steam Humidifier
The Steamfast™ SF-920 steam humidifier is great for humidifying small and medium-sized rooms. This steam humidifier features an innovative, top-fill design so you can easily fill the 1-gallon water tank. It offers 2 steam settings, a 3-minute heat-up time and auto shut-off. See our expert rating & reviews.
Humidifies small- and medium-sized rooms
Filter-free humidification
Provides warm moisture
2 steam settings
Auto shut-off when the tank is empty
Top-fill design
Removable, 1-gallon water tank
Integrated carry handle on the water tank
Steam outlet on the top of the humidifier
Max-fill ball
Power indicator light
Power/steam selection switch
Provides up to 24 hours of steam output:

Low speed: 1 gallon per day
High speed: 2 gallons per day

3-minute heat-up time
Quiet operation
6-foot power cord
Aromatherapy oil ring (oils not included)
Manufacturer's limited 2-year warranty
Room Coverage: Small- to medium-sized rooms
Noise Level: Very quiet; nearly silent
Mist Output Levels: High speed: 2 gallons per 24 hoursLow speed: 1 gallon per 24 hours
Power Supply (Volt, Hertz, Watts): 120V, 60Hz, 260 watts
Capacity: 1 gal.
Weight: 5.26 lbs.
Dimensions: 10.5";w x 8.75";d x 14";h
Warranty: 2-year warranty
The Steamfast™ SF-920 Steam Humidifier is a great choice for creating a well-humidified, comfortable living environment in your home. It features a removable 1-gallon water tank with an integrated handle, plus it has a top-fill design that makes it quick and easy to fill the water tank. If the water runs out, the SF-920 will automatically shut off on its own. The SF-920 provides efficient steam power and has a fast, 3-minute heat-up time, so you don't have to wait long for warm moisture. If you like to use essential oils in your home, the SF-920 has an aromatherapy oil ring for you to insert your oils (oils not included). The Steamfast™ SF-920 Steam Humidifier will provide warm mist humidification in small- or medium-sized rooms in your home.