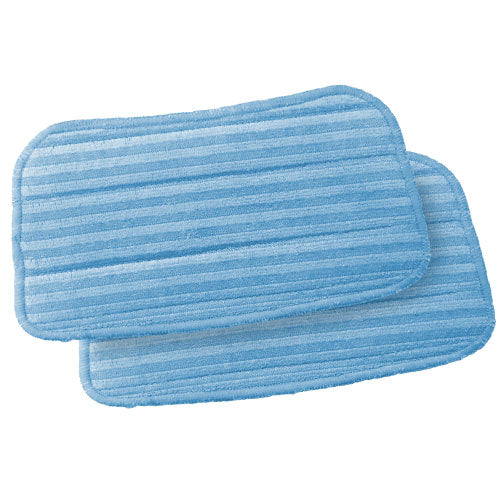 SteamFast SF-295 3-in-1 Steam Mop Replacement Microfiber Pads
The Steamfast™ SF-295 3-in-1 Steam Mop works as a floor mop, a handheld steam cleaner and a handheld fabric steamer. It utilizes water alone to naturally and effectively clean and sanitize your household surfaces—there is no need for any harsh, toxic chemicals. See our expert rating & reviews.
3-in-1 mop: use as a floor mop, handheld steam cleaner or handheld fabric steamer
Steam intensity levels range from 1 (low) - 7 (high); default setting is level 4
Easily adjust the steam level via the '+' and '-' buttons
LCD display control
15 oz. removable water tank
Quick, 30-second heat-up time
Provides up to 25 minutes of continuous steam
Water tank with a cap
Power on/off button
Power indicator light
Water tank release button
Adjustable and detachable telescopic pole
Handle with a comfort grip
Cord brackets
Mop head for cleaning floors
Includes 9 accessories:

2 washable microfiber pads
2 nylon brushes
1 brass brush
1 fabric brush
1 fabric nozzle
1 squeegee
1 steam nozzle

Weight: 3.93 lbs.
Manufacturer's limited 1-year warranty
The Steamfast™ SF-295 3-in-1 Steam Mop will safely and effectively clean your household surfaces. It easily converts from a floor mop to a handheld steamer or a fabric steamer, enabling you to clean a variety of surfaces in your home with the power of water and steam alone. The SF-295 offers 7 steam intensity levels, allowing the user to choose their desired steam level. The Steamfast™ SF-295 is a true all-in-one solution for naturally cleaning surfaces in your home.