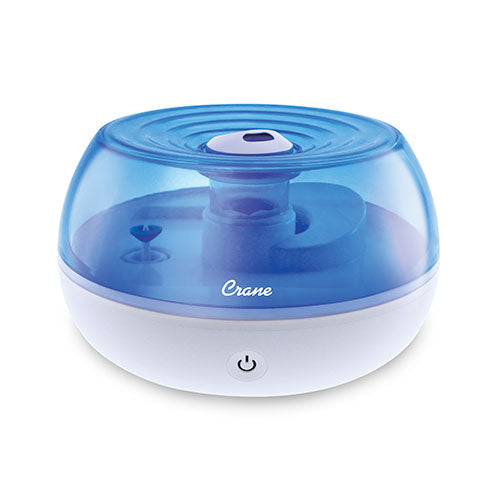 Crane Personal Ultrasonic Humidifier
Ultrasonic Cool Mist increases moisture in the air for easier breathing and a good night's sleep. Crane Personal Ultrasonic Humidifier relieves cough, cold, and flu symptoms, nasal congestion, dry cough, sinus irritation, nose bleeds, and dry skin and hair.
360° MIST NOZZLE: The Crane personal cool mist humidifiers offer an adjustable 360° mist lid making it easy to send the mist in any direction. The mist output is perfect for rooms up to 160 square feet - a standard small to medium sized room.
WHISPER QUIET: Crane's personal humidifier runs whisper quiet, making it the perfect option for light sleepers, kids, & babies. This humidifier is made with clean control anti-microbial material which reduces mold & bacteria growth by up to 99.96%.
0.2 GALLON TANK: The 0.2 gallon tank fits under a standard kitchen or bathroom sink & is easy to carry & travel with due to its ultra-compact size. It can easily be packed into a suitcase or backpack & fits perfectly in any hotel room or guest residence.
8 HOUR RUN TIME: The personal humidifier runs up to 8 hours, so you don't have to worry about running it through the night. It also is equipped with an automatic shut-off safety feature that turns the unit off when the water runs out.
EASY TO CLEAN: Crane's easy to clean humidifier design features a detachable bottom fill tank, professionals for promoting clean humidifier habits. The mist cap is removable, giving you access to clean the entire base.
Product Dimensions (in.): 6.75"W x 6.75"L x 6.25"D
Product Weight (lbs.): 2lbs.