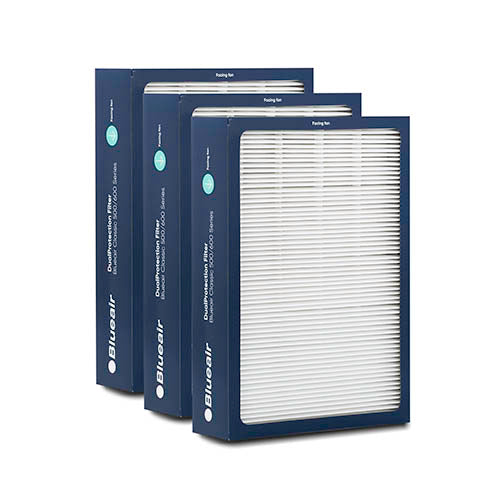 Blueair 500 and 600 Series DualProtection Filter
Uncompromised particle removal Blueair DualProtection filters have been designed for the ultimate particle, gas and odor removal. They are optimized for Blueair's HEPASilentTM technology, rapidly removing pollutants with no reduction in Clean Air Delivery Rate (CADR). The pure, activated coconut carbon naturally removes gaseous pollutants without the need for chemical additives. The filter is also pleated to ensure the largest filter area possible. These combine to efficiently remove pollutants up to four times faster compared to other carbon filters.
Also compatible with the Blueair Allergy Guard Plus.
• Optimized for HEPASilentTM technology • Uncompromised particle filtration • Pleated for maximized filter area • Pure, high quality activated coconut carbon • No chemical additives • 99.97% removal of particles down to 0.1 micron such as pollen, dust, pet dander, mold spores, viruses, bacteria and micro plastics