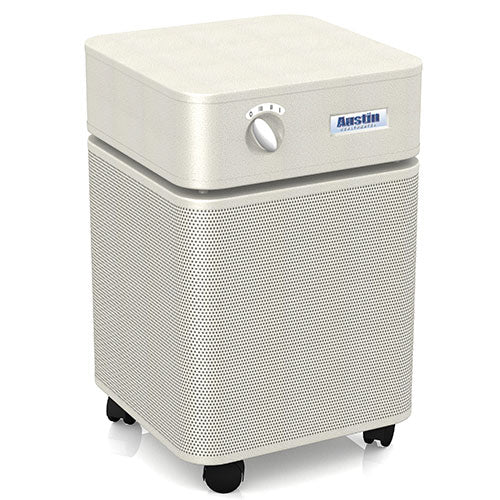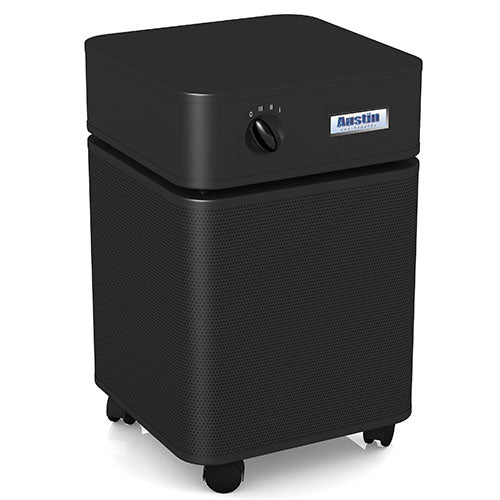 Austin Air Healthmate Plus Air Purifier
It's just like the HealthMate but with additional filtering capabilities to address smoke, chemical, and VOC contamination – including formaldehyde, which is often emitted from wood-burning and gas appliances, as well as building materials.
Comprehensive air cleaning system for those with chemical sensitivities
Maximum coverage: up to 938 sq .ft. (2 air changes/hr)
Recommended coverage: up to 313 sq. ft. (6 air changes/hr)
Room air purifier
Removes 99.97% of all particles larger than 0.3 microns
Large particle pre-filter
Medium particle pre-filter
Anthracite carbon and zeolite mixed with a blend of coconut shell carbon impregnated with Potassium Iodide
True medical grade HEPA filter
3 fan speeds
Manual controls
360° air intake, outflow from top side vent
4 casters (Not included on Junior model)
CSA, NRTL and CE approved
Colors: Sandstone, Black, Off-white, and Midnight blue
All steel construction with a powder coating paint finish
Made in the USA
Model Number: HM450
Square Foot Coverage: up to 938 sq. ft.
Power Requirements: 1.3 amps, 120V
Energy Consumption: 115 watts
Clean Air Density Rate (CADR): Not tested by AHAM
Rated Air Flow of Fan: Low: 75 CFM, Medium: 200 CFM, High: 400 CFM
Delivered Air Flow: Low: 47 CFM, Medium: 125 CFM, High: 250 CFM
Decibels: 39.8 dB - 64.5 dB
Dimensions: 23"; H x 14.5"; W x 14.5"; D
Weight: 47 lbs
Warranty: 5 yr parts & labor5 yr pro-rated filter guarantee
The special feature of the Austin Air Healthmate Plus air purifiers is the carbon Superblend they use. The Healthmate Plus and Healthmate Plus Junior offer efficient absorption of multiple chemicals and VOCs that are present in our indoor environments. We highly recommended the Healthmate Plus air purifiers for who want to reduce their exposure to environmental chemicals or for those who have MCS.