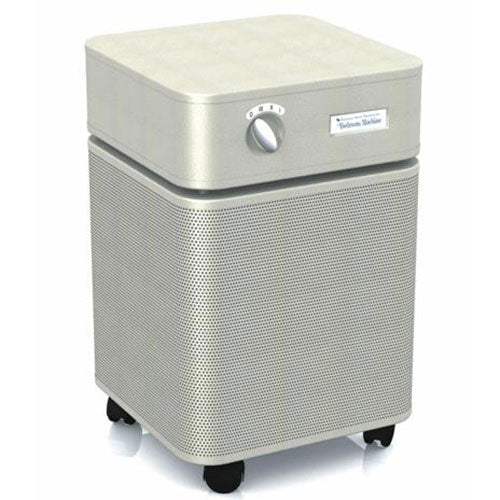 Austin Air Bedroom Machine Air Purifier
It addresses odors, dust, viruses, bacteria, pollen, dander, VOCs, gases, and chemicals – including particles down to the nano-size level. It also contains a HEGA carbon cloth to capture viruses and deactivate them.
For removing sub-micron particles, noxious gases and chemicals
Maximum coverage: up to 938 sq. ft. (2 air changes/hr)
Recommended coverage: up to 313 sq. ft. (6 air changes/hr)
Room air purifier
Removes 99.97% of all particles larger than 0.3 microns
Large particle pre-filter
Medium particle pre-filter
15 lbs of proprietary carbon blend
True medical grade HEPA filter
High Efficiency Gas Arrestance (HEGA) Carbon Cloth
3 fan speeds
Manual controls
360° air intake, outflow from top side vent
4 casters
Endorsed by National Sleep Foundation, CSA, NRTL, & CE approved
Colors: Sandstone, Black, Off-white, and Midnight blue
All steel construction with a powder coating paint finish
PSC motor and centrifugal fan
Made in the USA
Model Number: HM402
Square Foot Coverage: up to 938 sq. ft.
Power Requirements: 1.2 amps, 120V
Energy Consumption: 135 watts
Clean Air Density Rate (CADR): Not tested by AHAM
Rated Air Flow of Fan: Low: 75 CFM, Medium: 200 CFM, High: 400 CFM
Delivered Air Flow: Low: 47 CFM, Medium: 125 CFM, High: 250 CFM
Decibels: 39.8 dB - 64.5 dB
Dimensions: 23"; H x 14.5"; W x 14.5"; D
Weight: 47 lbs
Warranty: 5 yr parts & labor5 yr pro-rated filter guarantee
When you couple Austin's quality manufacturing and drive to improve home air filtration with the research done by John Hopkins University Medical School and the approval of the National Sleep Foundation, you can be sure the result is favorable! The Austin Air Bedroom Machine air purifier is an excellent choice for someone whose priority is to sleep in a bedroom free of any allergens, chemicals, gases or odors and prefers some white noise to enhance their sleeping environment. It would be a good safe choice for someone who suffers from allergies, asthma, MCS or other respiratory issues.