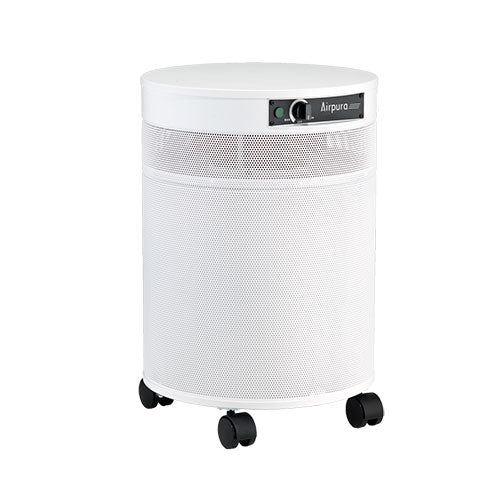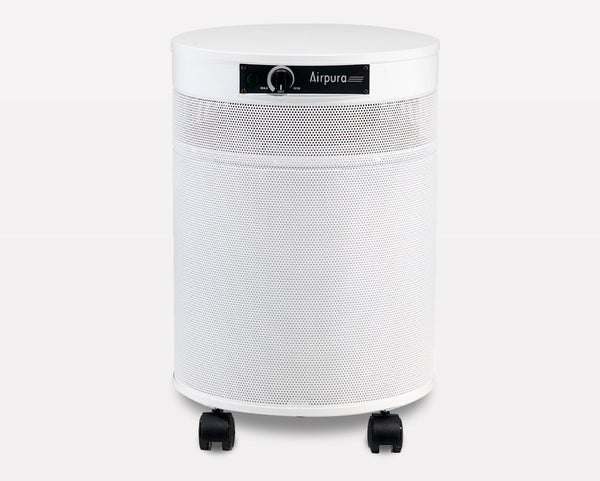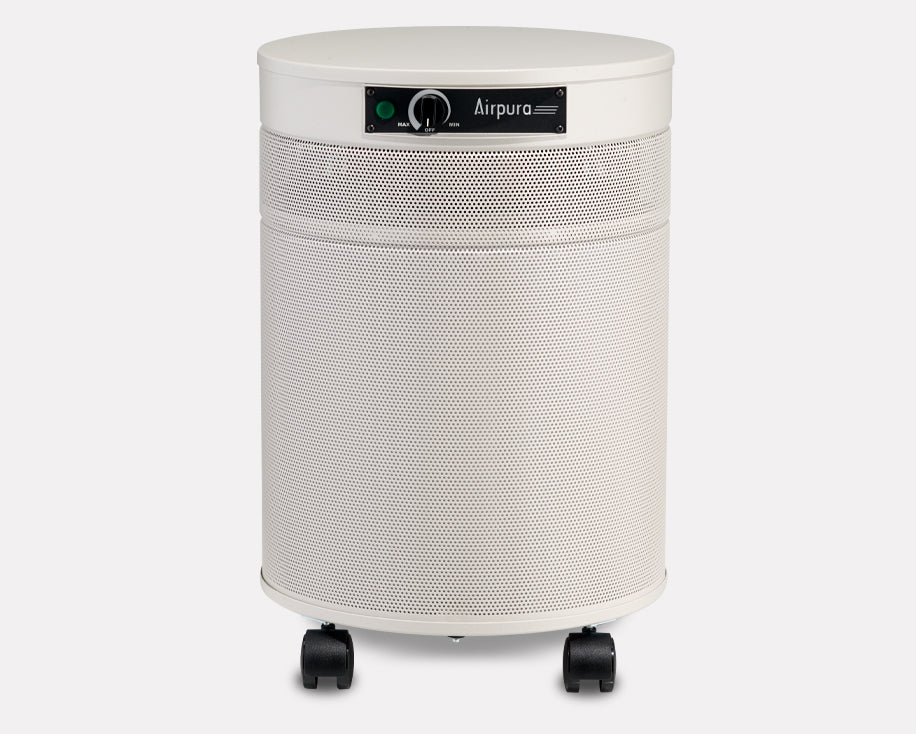 Airpura R600 All Purpose Air Purifier
Airpura Air Purifiers for all purpose air cleaning. Airpura R600 Air Purifier removes chemicals, odors, gaseous contaminants and harmful particles from the indoor air.
For airborne chemical and particle removal
Maximum coverage: 1650 sq. ft. (2 air changes/hr)
Recommended coverage: 550 sq. ft. (6 air changes/hr)
Large room air purifier
Traps 99.97% of particles as small as 0.3 microns
Adsorbs chemicals, gaseous contaminants and odors
Cleanable pre-filter
2 Anti-microbial filters
18 lb carbon filter, 2" deep
True HEPA filter (40 sq. ft of media w/ 10 pleats per inch)
Separately changeable filters
Variable Fan Speeds
Low noise level
Manual controls
360° air intake and outflow
4 casters
ETL certified, conforms to CSA C22.2 no 113 ANSI/UL 507
Colors: Black, White or Cream
All metal housing
Sealed motor chamber
Sealed electrical chamber
Pressure sealed filter chamber
Felt gaskets
Made in Canada
Certified by the California Air Resources Board (CARB)
Model Number: R600
Model Number: R600
Square Foot Coverage: up to 1650 sq. ft.
Power Requirements: 115V or 220V
Power Requirements: 115V or 220V
Energy Consumption: 40 watts - 120 watts
Clean Air Density Rate (CADR): Not tested by AHAM
Clean Air Density Rate (CADR): Not tested by AHAM
Rated Air Flow of Fan: 560 CFM
Delivered Air Flow: 440 CFM
Decibels: 28.1 db - 62.3 db (at distance of 6 ft)
Dimensions: 23";H x 15";D
Weight: 45 lbs
Finish / Color: Black, White or Cream
Warranty: 5 yrs parts, 10 yrs labor
The Airpura R600 is an excellent solution for those who are looking for a best all-around air purifier at a moderate price. This air purifier will easily satisfy your need to remove irritating particles that trigger allergies and asthma, as well as remove everyday occurrences of chemicals and odors present in your indoor air. What's even better is its affordable price and long lasting filers, which makes the R600 one of the best value air purifiers for the money.