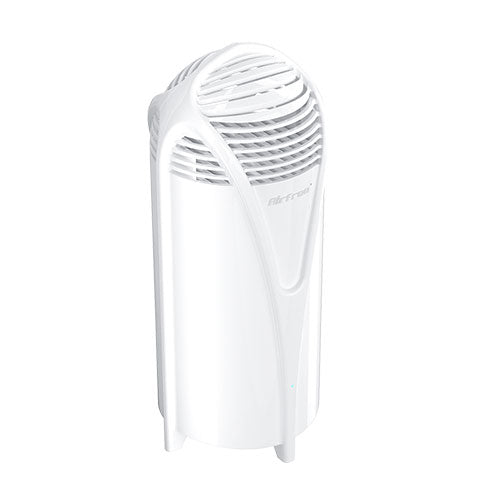 AirFree T800 Air Purifier
Get the performance and efficiency of an air purifier without taking up vital space. The Airfree T800 is perfect for small rooms, eliminating 99.99% of bacteria, fungi, viruses, pollen, and other organic air pollutants up to 180 ft². Start breathing easier today!
For destroying bacteria, viruses and micro-organisms
Maximum coverage: up to 180 sq. ft.
Silent operation
Destroys 99.99% of all micro-organisms
No filters
Incinerator chamber heats to 400°F (204°C)
Safe, cool to the touch exterior
Continuous operation
Adjustable blue anti-stress light
Auto-shut off protection
Air intake at bottom, outflow at top
Moves air through a process of air convection at a rate of 14 m³/hr
Air is cooled before exiting unit
Energy efficient
ISO, CE, UL certified
ABS Plastic shell, ceramic core
Made in Portugal
Model Number: T800
Square Foot Coverage: 180 sq. ft.
Power Requirements: 110-127v
Energy Consumption: 33 watts
Clean Air Density Rate (CADR): CADR is not designed to test the Airfree technology
Decibels: Totally silent
Dimensions: 11.8"H x 5.1"D
Weight: 1.5 lbs.
Warranty: 2 yrs
In Stock. Ships Same or Next Business Day.