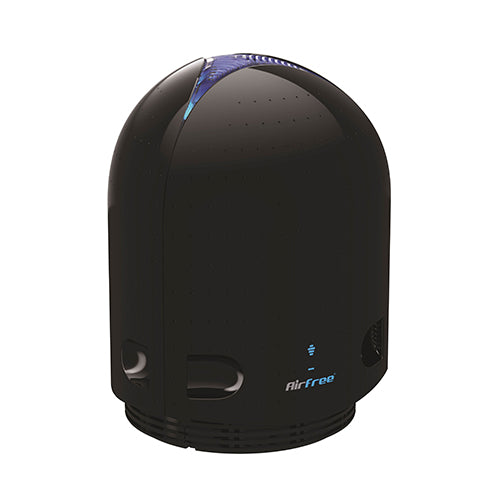 Airfree Onix 3000 Air Purifier
The Airfree Onix 3000 air purifier is the perfect combination of highly efficient TSS™ air-sterilization technology and award-winning design. Get rid of up to 99.99% of bacteria, fungi, viruses, pollen, pet allergens, dust mite allergens, and other organic pollutants with this silent yet effective purification system.
Cleans up to 650 sq. ft.
Destroys 99.99% of all microorganisms
Does not require filters
Incinerator chamber heats to 400°F (204°C)
Does not emit ozone or ions
No fan
Completely-silent, continuous operation
Plug in to turn on
On/off LED light
Adjustable blue anti-stress light
Auto shut-off protection
Air intake at the bottom, outflow at the top
Moves air through a process of air convection at a rate of 14 m³/hr
Air is cooled before exiting the unit
Energy-efficient: only uses 52 watts
Tilt sensor
ISO, CE, UL certified
Color: Black
ABS Plastic shell, ceramic core
Made in Portugal
Model Number: Onix 3000
Square Foot Coverage: up to 650 sq. ft.
Power Requirements: 110-127v
Energy Consumption: 52 watts
Clean Air Density Rate (CADR): CADR is not designed to test the Airfree technology
Rated Air Flow of Fan: n/a
Delivered Air Flow: n/a
Decibels: Totally silent
Dimensions: 10.4"H x 8.4"D
Weight: 3.3 lbs
Warranty: 2 yrs
In Stock. Ships Same or Next Business Day.