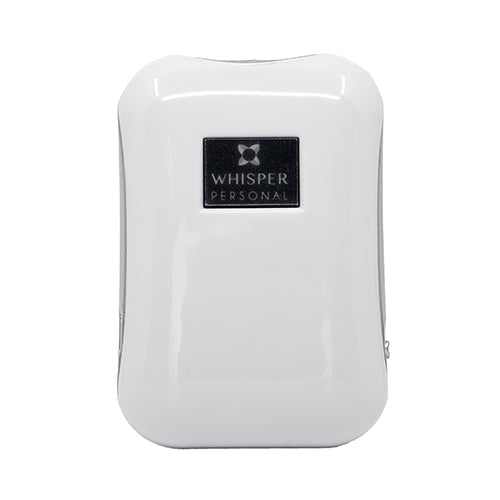 The Whisper Personal Air Purifier for clean, healthy air on the go. Can be worn around the neck, clipped your belt or stand alone. No maintenance or expensive filters to change.
Includes universal neck strap, belt clip and desk stand
Built-in ionizer removes airborne particles and reduces pollutants
Decreases smoke, dust, pollen and odors from the air your breathe
Rechargeable lithium battery
On/off switch to preserve battery life
1-year warranty
Model Number: A1017A
Power Requirements: Lithium Battery
Energy Consumption: 0.03W
Dimensions: 3.8'H x 1'W x 2.2'L
Weight: 1.8 oz.
Finish / Color: White
Filters included: No filters required
Fan Speeds: n/a
Warranty: 90-day
Breathe easier wherever you travel with this sleek-looking, lightweight Whisper Personal air purifier. It doesn't get any easier than this, with it's universal neck strap, belt clip or desk stand, the Personal air purifier is designed and engineered to be simple to use. Includes the added bonus of no fans, filters or maintenance! Create an almost particle-free zone around you and breathe fresher, healthier air while traveling, working or visiting friends and family.