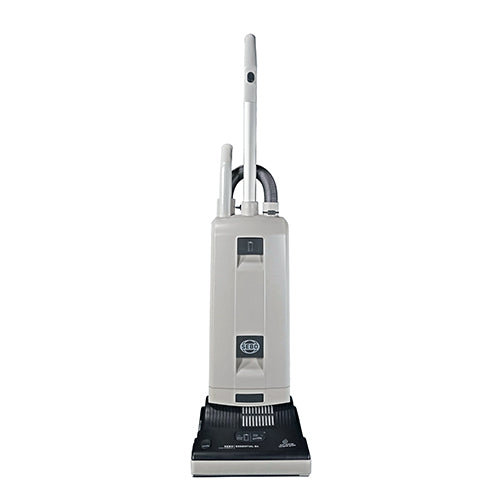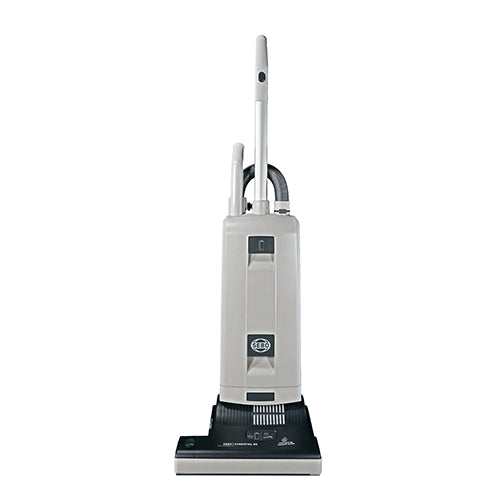 Sebo Essential G4 G5 (light gray-dark gray) Upright Vacuum
The Sebo G-4 & G-5 Essential are rugged and durable and has enough power to clean up the worst messes! It has enough power to be used as a pet vacuum and allergies with its tightly sealed hospital-grade filter, you can be assured that allergens are trapped and not recirculated in the air. Rubber wheels and bumpers protect your furniture and home from unwanted scuffs and scrapes that often happen with cheap vacuums. The unit also has three onboard full size tools enabling you to complete any cleanup without having to leave the room you are cleaning in. No more worrying about hair tangled around the roller, the unit has an automatic shut-off if the roller is fouled. No more guessing at what is the proper height setting for the floor, it has an indicator light when the setting is incorrect. The SEBO G4 & G5 is a vacuum loaded with all the features you would expect from a high end unit without the cost. it is also backed by a 10 year warranty on the motor, 10 year warranty on non-wearable parts, and a 7 year labor warranty. 
Twelve-inch Power Head Width for G4 Model
Fifteen-inch Power Head Width for G5 Model
Three On-board Tools Included: Dusting Brush, Crevice Nozzle and Upholstery Nozzle
Instant-use Wand and Suction Hose
A Low 5 1/2-inch Profile
Four-level Manual Brush Height Adjustment
Brush Obstruction Light with Automatic Shut Off
Incorrect Height Setting or Worn Brush Light
Easy Brush Removal and Cleaning
Bag Full or Clog Light with Automatic Shut Off
Soft Start Feature
Durable Matte Finish
Combination Carrying Handle with Rotating Cord Hook
Forty-foot Cord and Protective Rubber-coated Wheels
Easy Maintenance
Hospital-grade Filtration for Allergy and Asthma Relief
Highly Effective Pet Hair Removal
10-year Warranty on Motor and Non-wearable Parts and a 7-Year Labor Warranty!