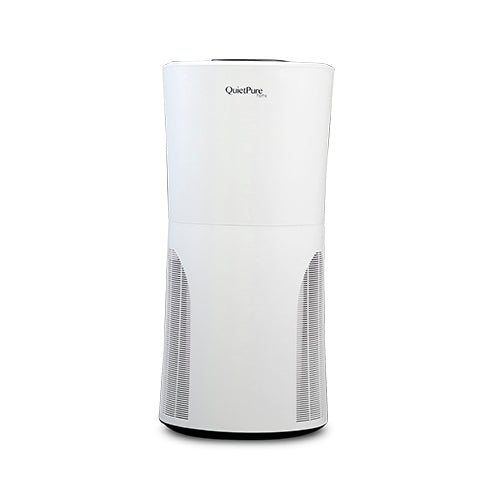 QuietPure Home Air Purifier
Simply stated, we believe the QuietPure HEPA air purifier is quieter, cleans more air and is easier to use than other leading brands. Intelligent monitoring of actual particle count, from particle count to relative humidity and even temperature. The QuietPure Home HEPA air purifier quietly and quickly reacts to changes in your air quality, ensuring your home or office is always a healthy sanctuary. Removes dust, allergens, pet dander, mold spores, viruses, smoke, odors and from particle count to relative humidity. Authorized QuietPure dealer. Fast, Free Shipping.
Purifies the air in rooms up to 1278 square feet
6-foot decibel reading of just 32 on low speed
Intuitive LCD display and soft touch controls
Patented, quiet turbo-charged airflow
Measures air quality in your home down to PM2.5
Captures 99.97% of all particles down to 0.3 microns
Certified by CARB (the California Air Resources Board)
Unique, attractive design
Measures and displays: PM2.5 particle count, relative humidity, and temperature

3 Airflow speeds plus Turbo and Night Mode
Auto Mode - Automatically adjusts fan speed
Night Mode - Dims display lighting and runs on super quiet speed
Turbo Mode - Turbo air flow will clean the air very quickly
Industry leading combination 3-stage filter:

Includes a combination pre-filter, HEPA and activated carbon cartridge

Manufactured in China
Model Number: Home
Square Foot Coverage: 1278 sq. ft.
Delivered Air Flow: 341 cfm
Rated Air Flow of Fan: -
Fan Speeds: 3 speeds, plus Night Mode
Clean Air Density Rate (CADR): Not tested by AHAM
Decibels: 32-65 dB(A)
Pre-filter: Combo pre-filter, HEPA and activated carbon
Carbon Filter: Carbon VOC Filter Cartridge
Particle Filter: Combo pre-filter, HEPA and activated carbon
Power Requirements: 100-120V; 50/60Hz
Energy Consumption: 2.6 - 70 watts
Dimensions: 28.22"h x 13.11" dia.
Weight: 12.78 lbs.
Finish / Color: White
Once in a while we come across a product which is a real game changer, and this is one of them! After putting this air purifier through our rigorous testing protocol, the QuietPure Home came through with flying colors. In fact, nearly flawless, it really doesn't get any better. This QuietPure Home is the industry's newest, most advanced air purifier for both residential and office environments. It is quieter (essentially silent), cleans more air and is easier to use than other brands; making the Home air purifier our first choice for allergy sufferers and those who suffer from asthma or severe respiratory diseases such as COPD. With your new QuietPure, you are equipped with real data that puts you in control of your home's health, enabling you to make changes to your environment and secure the health and well being of everyone in the family. Category Winner for Quiet.