Airfree T800 Air Sterilizers
The Airfree T800 air sterilizer offers a true value in air purification. This unit is appropriately sized for most bedrooms and there are no filters to replace. Airfree has been offering various air sterilizers for more than a decade and they are a customer favorite due to their simple, cost effective design and most importantly because they work.
In Stock. Ships Same or Next Business Day.
---
$99.00
---
The Airfree T800 air sterilizer is completely silent, energy-efficient and have no expensive filters to replace. Airfree air sterilizers kill 99.99% of all airborne micro-organisms using patented Airfree sterilizer technology. The T800's ceramic core incinerates at 400°F, eliminating the common triggers of allergies and asthma as well as ozone, viruses and bacteria. The Airfree T800 moves air through the passive process of air convection, which is the same way a hot air balloon moves (hot air rises). The T800 air sterilizer is energy-efficient, maintenance free and has no expensive filters to replace. Perfect for basements, art and document preservation in addition to healthier, cleaner air.

Click here to view a diagram of how the Airfree Air Sterilizers work.
Product Specifications
Square Foot Coverage: 180 sq. ft.
Power Requirements: 110-127v
Energy Consumption: 33 watts
Clean Air Density Rate (CADR): CADR is not designed to test the Airfree technology
Decibels: Totally silent
Dimensions: 11.8"H x 5.1"D
Weight: 1.5 lbs.
Warranty: 2 years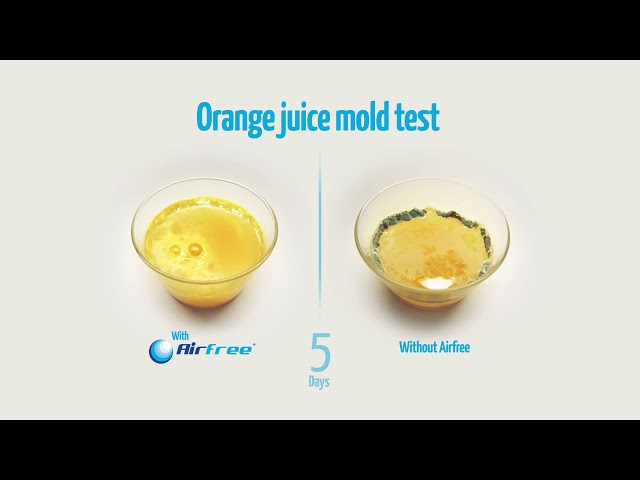 ---
For destroying bacteria, viruses and micro-organisms
Maximum coverage: up to 180 sq. ft.
Silent operation
Destroys 99.99% of all micro-organisms
No filters
Incinerator chamber heats to 400°F (204°C)
Safe, cool to the touch exterior
Continuous operation
Adjustable blue anti-stress light
Auto-shut off protection
Air intake at bottom, outflow at top
Moves air through a process of air convection at a rate of 14 m³/hr
Air is cooled before exiting unit
Energy efficient
ISO, CE, UL certified
ABS Plastic shell, ceramic core
Made in Portugal
---
| | |
| --- | --- |
| EXPERT REVIEW PARAMETERS | STAR RATING |
| 1. Airborne Particulate Filtration | |
| 2. Gas, Chemical & Odor Filtration | |
| 3. Room Coverage | |
| 4. Noise Rating | |
| 5. Filter Life & Replacement Costs | N/A |
| 6. Ease of Operation | |
| 7. Quality of Construction: Air-tight design, no off-gassing | |
| 8. Electronic Filter Life Monitoring | N/A |
| 9. Manufacturer's Credibility, Warranty & Return Policy | |
| 10. Quality of Filters | N/A |
| 11. Value for Price | |
