Airfree P1000 Air Sterilizer
The Airfree P1000 air sterilizer destroys mold, fungus, bacteria, viruses and more, plus it neutralizes allergens in the air. It has the ability to reduce the level of ozone in the air, and it does not emit any ozone or ions. Since it does not have filters, the P1000 is not a solution for reducing dust or for removing airborne gases or chemicals. As an added bonus, the P1000 doesn't require maintenance and it doesn't utilize filters, saving you money on costly replacement filters.
In Stock. Ships Same or Next Business Day.
---
$219.00
---
The Airfree P1000 air sterilizer operates silently and kills 99.99% of airborne microorganisms with Airfree's patented sterilizer technology. The P1000 moves air through the process of air convection, similar to a hot air balloon where the air rises. The P1000's ceramic core heats the air up to 400°F, sterilizing it and removing harmful ozone, fungi, bacteria, allergens, viruses, mold and more. After the air is heated, it is then cooled and returned to the room through the top air outlet. The Airfree P1000 is an energy-efficient air cleaner that uses the same amount of watts as a small light bulb. The P1000 does not require any maintenance and it does not utilize filters, saving you money on costly replacement filters. The P1000 works well for those that need to preserve documents, art and valuables that could be harmed by mold or mildew—this information is backed by the manufacturer's well-documented research. The Airfree P1000 covers rooms up to 450 square feet in size.
Product Specifications
Square Foot Coverage: up to 450 sq. ft.
Power Requirements: 110-127v

Energy Consumption:

45 watts

Clean Air Density Rate (CADR):

CADR is not designed to test the Airfree technology

Decibels:

Totally silent

Dimensions:

10.4"H x 8.4"D

Weight:

3.1 lbs

Warranty:

2 years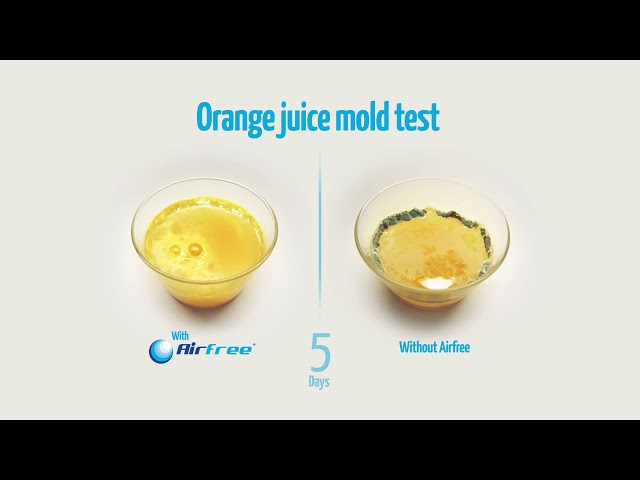 ---
Cleans up to 450 sq. ft.
Destroys 99.99% of all microorganisms
Does not require filters
Incinerator chamber heats to 400°F (204°C)
Does not emit ozone or ions
No fan
Completely-silent, continuous operation
Plug in to turn on
On/off LED light
Adjustable blue anti-stress light
Auto shut-off protection
Air intake at the bottom, outflow at the top
Moves air through a process of air convection at a rate of 14 m³/hr
Air is cooled before exiting the unit
Energy-efficient: only uses 52 watts
Tilt sensor
ISO, CE, UL certified
Color: White
ABS Plastic shell, ceramic core
Made in Portugal
---
| | |
| --- | --- |
| EXPERT REVIEW PARAMETERS | STAR RATING |
| 1. Airborne Particulate Filtration | |
| 2. Gas, Chemical & Odor Filtration | |
| 3. Room Coverage | |
| 4. Noise Rating | |
| 5. Filter Life & Replacement Costs | N/A |
| 6. Ease of Operation | |
| 7. Quality of Construction: Air-tight design, no off-gassing | |
| 8. Electronic Filter Life Monitoring | N/A |
| 9. Manufacturer's Credibility, Warranty & Return Policy | |
| 10. Quality of Filters | N/A |
| 11. Value for Price | |
The Airfree P1000 air sterilizer is an energy-efficient air cleaner that provides great value to users. Other than the initial purchase, you don't have to spend additional money on costly filters, plus it uses little electricity. This maintenance-free air sterilizer is simple to use, you just plug it in and forget it.
